Posted by Chris Larsen on 29th Oct 2019
There is definitely getting to be a chill in the air. Ice fishing shows are coming up… I attended a store event at Joe's Sporting Goods in St. Paul a week ago. It was fun to visit with diehard anglers already planning ahead for ice season. Those types of events are a great opportunity to see new products and visit with store staff and factory reps.
But the big shows are coming up soon. Todd Heitkamp and his staff at Dakota Angler in Sioux Falls have been hosting this event since 2008. Over 75 vendors will be at the show and it's just $5 to get in. The Dakota Ice Institute is November 8-10 at the Sioux Falls Arena.
We recently sat down with Dakota Angler owner Todd Heitkamp at a dealer-only to discuss the Ice Institute. To listen to the Fish House Nation Podcast Episode #7, press play on the audio player below to listen or scroll down to read more.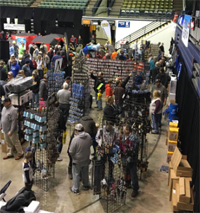 Heitkamp started the Dakota Ice Institute to help people understand how to get the most from their ice fishing equipment. "It was a method to educate the fishermen on all the equipment we sell. How do they properly use it? It's not just a buying show. What we're trying to do is learn. That's why it's called The Institute, to learn. All the equipment you can buy, we're also offering free seminars throughout the weekend so that person walks out the door knowing how to properly use it to make their trip out on the ice more successful and more fun."
Just about everything you can think of for ice fishing will be at the show. The Dakota Ice Institute is now the third largest ice fishing show in the country. "They're going to walk in the door and say, "wow". It's overwhelming. You see all the vendors set up. All the different equipment, ice houses. Whether we're talking about portables or permanent houses. Then you'll see all the different electronics, augers, you name it."
The biggest names in ice fishing will have their products at the institute. Catch Cover, Eskimo, Ion Augers, Clam, Marcum, Vexilar, Humminbird, Garmin, and more will be filling the arena. Heitkamp is very proud to provide an opportunity for smaller vendors that are not household names.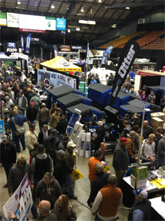 "A lot of shows are run by promoters. I'm just a mom & pop bait shop owner. I also make booths available for mom & pop tackle dealers. Things you wouldn't normally see at a big box store widespread across the upper Midwest. It gives them an opportunity to show their goods in front of people."
Speaking of big names, the speakers at the Dakota Ice Institute are a whos-who in ice fishing. Dave Genz, Troy Peterson, Brian Brosdahl, Brad Hawthorne, Dennis Kassube, Jason Durham, Cody Roswick, Mike Tietjen, Shantel Wittstruck, and Craig Oyler are all scheduled to speak.
The 11th Annual Dakota Ice Institute is set to be a great show. If you're in the area November 8-10, you won't want to miss it. For more information, visit DakotaAngler.com.
Want to hear more from our podcast? You can listen on Apple Podcasts, Stitcher, or Sound Cloud. It's also available on our YouTube channel.