Posted by Chris Larsen on 10th Oct 2019
It's early to mid-October and it's still going to be a while before we're walking on the hardwater. But if you spend any time online you can see ice anglers already getting fired up and ready for first ice. It's a magical time of year. We get to try out our new gear or at least get reacquainted with the trusty old equipment we haven't used since last winter.
Speaking of equipment now is a great time to tune up your auger. If you're using a gas auger, check the spark plug, make sure there isn't any old gas in it, and just make sure it is running well. If you use an electric, run the batteries through a cycle to be sure they will still take a charge. No matter what you're using, check the blades and flighting. You don't want to miss any time on the ice once it's finally here.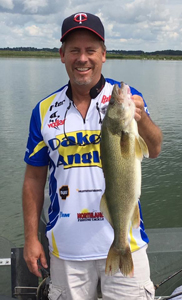 Before we get into the fishing part of early ice crappie fishing, we need to talk about safety. Todd Heitkamp from Dakota Angler in Sioux Falls, South Dakota agrees.
"The main thing is safety. We emphasize more and more each year because everyone wants to scratch that itch. Safety is the utmost priority. Second is familiarity with the lake and knowing where those spots are at so you're not spending a lot of time looking for them."
Scratching that itch to get out on the ice is what it's all about but making sure you stay on the top side of the ice is imperative. I've often heard the phrase, "no ice is safe ice". Ice conditions vary, especially in the early season. You may be on five or six inches of ice in one spot but encounter thin ice just a few steps away. Having a spud bar to test ice as you walk out is always a good idea. Carry a set of ice picks in an easy to access spot on your body to help pull yourself up on the ice if you need to. It never hurts to wear a flotation suit or even just a life jacket if a suit isn't in your budget. Before you go, be sure to tell someone where you're going and when they should expect you back. Better yet, fish with a friend or two.
With little to no snow on the ice, first ice is usually pretty slick too. A pair of ice cleats can help prevent a fall and make your steps much more efficient. But having good traction on your boots really helps. Part of the allure of first ice is smaller crowds. Obviously, a lot of us like to use our vehicles and ATVs when ice fishing. Early ice conditions keep those vehicles off the ice and the crowds lighter.
On the plus side, that thin also makes it a lot easier to drill holes. No auger extensions needed! Another great advantage to having thin, clear ice is being able to see what's under your feet. Often times the weeds are still green and you can see them before drilling any holes. Not sure about depth or structure below? Pour some water on the ice and put your sonar transducer right on the surface and check it out.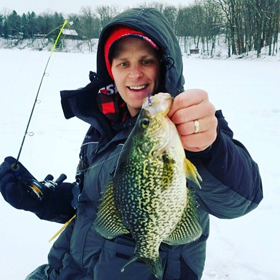 I recently talked to four elite ice anglers about how they locate and catch crappies during early ice. They all had slightly different strategies for finding early ice crappies. Scott Wilhelm, Fishing Manager at the Eau Claire, Wisconsin Scheels and a person I would describe as a crappie addict, likes to keep tabs on fish all fall long. Many anglers put their boat away and spend the fall hunting or even worse, doing work around the house. Scott fishes open water right up to ice in.
"When I find them in the fall, they're going to be in the exact same places. Whether it's in a basin or edge of the weeds. Where ever I left them in late fall, that's where I'll find them during first ice."
Wilhelm will fish weeds when the fish are there but as they move deeper, he starts hitting basins and looking for structure like fish cribs and downed trees.
"If there are any weeds still up, as the days get shorter the weeds start dying off. If you can find weeds they can definitely hold them but usually, they're moving out into basins and structure."
We heard from Todd Heitkamp earlier in the show. He owns Dakota Angler, a large independent fishing retail store in Sioux Falls, South Dakota. If you're ever wondering how the fish are biting in that area, check out the Dakota Angler Facebook Page. Todd is always providing up to date fishing reports on the page. Before hitting the basins, Heitkamp looks for flooded timber or any other available structure.
"Out here in South Dakota, we don't have a lot of structure. Those crappies are going to be suspended in various locations. There are a few lakes around here that do have some structure like flooded timber. That's where I would start right away. I would see if they're in those areas. If they're not, you're going to have to scope around and look for them. I'm going to look for some type of flooded timber or other structure like that."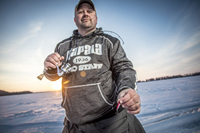 Lakes, especially big ones, can seem like a big puzzle that's hard to put together. With so much water to cover, where do you start? Joel Nelson has been holding a fishing rod since he was a youngster. Now he's a well-known outdoor communicator working with many of the top names in fishing. Nelson likes to break big waters down into smaller, more manageable waters. He's often targeting a specific type of body of water.
"I look for first ice, on bigger lakes with small little teardrop-shaped bays that are almost separate lakes attached to them that have a good little miniature basin. Those little mini-lakes or mini-bays with their own individual basin, those can be some of the best spots to find early ice crappies. They're suspended. They'll be there all winter. But anglers end up finding out about those spots and beating them up pretty good."
One of the most enjoyable aspects of ice fishing is the social nature of it. Going out on the ice with friends is a great time. Some anglers enjoy a little friendly competition. Minnesota Made Outdoors is a panfishing league that hosts a handful of fishing tournaments around the Minneapolis-St. Paul Metro Area. It's competitive but friendly. Paul Ghizoni, one of the league directors, is proud of the friendly atmosphere league competitors enjoy. When Ghizoni is looking for early season slab crappies, he goes shallow.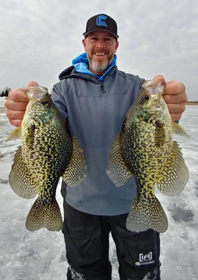 "Those fish, predators, they want to be shallow. I'm a huge proponent of fishing in ten feet of water or less, if you can. We all know kind of what we're going to get when we're fishing basin crappies. If we're fishing in 30 feet of water, most of those crappies are going to be your cookie cutters in that lake. If you're looking to bring home some fish or your looking to put your kids on fish which is what I'm doing during early ice, I will check out basins first, just to get numbers. But I think those predator fish, the big ones, they want to be shallow. They're relating to green weeds, cover, forage, you name it."
What I found most interesting about the four anglers I talked to is they all had a little different strategy for fishing early season crappies. Depending on the types of lakes they fish and their fishing style, they were fishing different patterns and areas. One thing they all shared with me was to try a variety of strategies. Fishing is a constant learning process. The only way to get better is to experiment and learn from your experiences. Early ice is a great time to try new things because the fish are usually receptive to different presentations.
Thanks for listening to this episode. I hope it gets you excited for first ice and gets you thinking about new ways to catch more fish this season. If you're on Instagram, please give us a follow at @fishhousenation - We're sharing ice fishing photos and tips there every day. We'll be dropping clips from the podcast there as well.
Thanks to all of our guests, Todd Heitkamp, Scott Wilhelm, Joel Nelson, and Paul Ghizoni. Good luck on the water.
Listen to Episode #4 by clicking the player below.
<