Posted by Chris Larsen on 15th Nov 2019
Jenny Anderson is known as the Girl of 10,000 Lakes. Her blog and Instagram account are loaded with stories and photos of her outdoor adventures. She didn't grow up with a love of ice fishing. But when she met a man who was in the midst of starting his own ice fishing adventure, she was all-in. "Even if you didn't grow up hunting, fishing, camping, all those things, which I didn't, it's never too late to discover it, even as an adult," said Anderson.
Listen to our conversation with Jenny by pressing play or continue scrolling to read more.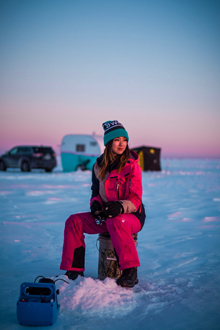 "I was a news reporter in Eau Claire, Wisconsin and I had the outdoor beat, unofficially. I covered a lot of outdoor news at the time. I covered a lot of DNR laws and safety. When hunting comes around we talked about deer numbers and that sort of thing. That was my introduction to the outdoors. Then I met my husband. He was starting to do a little bit of ice fishing. It was his second year of trying it out but his first time buying his own gear."
The first trip for the new ice fishing duo was a successful one. While fishing Lake Eau Claire in Wisconsin, Anderson hooked into a 28" walleye. Her then-boyfriend, Nick, was amazed. "You're either really lucky or really good!" The fell in love with ice fishing and each other. Life has changed since that first fish. They married and moved to Minnesota.
The Nick & Jenny made several trips using their portable ice shack but knew there was more to ice fishing than just chasing fish with a heavy-duty tent. They wanted something more permanent to really enjoy the ice fishing lifestyle.
"We really wanted to spend the night on the ice. We dedicated almost every weekend to ice fishing. But the fact that we would have to find a hotel every time or come back home was a waste of time and also a lot of money. So we thought it was time to look for our own and we also wanted to go camping… I really wanted something that looked like it was made for camping. I wanted a vintage camper and a fish house that cranks down."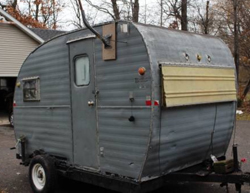 Jenny knew it would be tough to find but she kept an alert on Google Alerts and frequently checked Craigslist. After a lengthy search, the camper she was looking for appeared. Although it fit the criteria she was looking for, it was hardly love at first sight. "It was ugly. It was grey with holes on the side and an ugly antenna sticking out. It just looked sad." But the bones of the camper looked good and Anderson and her husband saw the potential in it despite appearances. "We called it The Meth Cooker, originally. It looked like something out of Breaking Bad… But we got it for $1,500 which I think is a bargain."
Once work started on the camper, more challenges arose. "If you want to test your marriage, you definitely should buy a fixer-upper fish house." The floors were rotten. New floorboards were needed. While pulling off the wallboards, Anderson saw something moving. The camper was infested with carpenter ants. After getting rid of the ants, the fun part of the build started.
The Lil' Hotdish has been customized by Jenny and her husband. The camper looks like Joanna Gaines from HGTV's Fixer-Upper moved to Minnesota and made a fish house. That's not a coincidence. "I would love to take Joanna Gaines fishing some time. I think she would like it. I think she would approve. It has some farmhouse flair with vintage charm. Everything that I wanted for our home that I couldn't afford I put bits and pieces of that into our camper because everything in the camper is a mini version so it's way more affordable."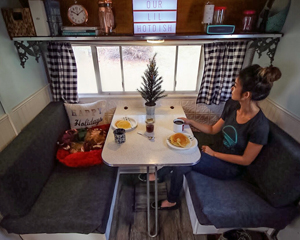 While The Lil' Hotdish looks amazing, what Anderson loves most is enjoying time on the water with friends. "When we invite people out it's with people we want to be crammed in a tiny space with. It's not that big, like 8x12… We have lots of good times in there together. The fact that you can sleep in there and the rattle reels go off at 5 am, that is exciting."
This winter, the Andersons are looking forward to spending winters in The Lil' Hotdish with a new addition to the family. Their son, Harlan, will be seven or eight months old the first time he goes ice fishing. "I really want him to grow up knowing what ice fishing is and feel like this is a normal environment because I missed out when I was a kid. My parents had no idea what ice fishing was. We moved from Korea when I was three. We were just trying to fit in. Ice fishing was unknown to us."
Some of The Anderson's favorite destinations are Mille Lacs and Lake of the Woods. They also enjoy ice fishing on the Gunflint Trail, but those waters are usually fished with a portable by the couple. They hope to take The Lil' Hotdish to Devils Lake, North Dakota in the future.
To learn more about Jenny Anderson and The Lil Hotdish, visit the Girl of 10,000 Lakes Blog by clicking here.