Posted by Chris Larsen on 18th Oct 2019
My first memories of ice fishing involved scraping ice away with an old rusty hand auger that I bought at a garage sale. The work was cumbersome and took forever. But as a young teenager, it was my first taste of independent fishing. I didn't need an adult to get me out on the water with a boat and I wasn't stuck onshore. The freedom was glorious and my teenage back could handle just about anything the ice could throw at me.
As we get older, we would like to think we get smarter although that's not always the case. I'll assume that my mind is stronger but my back is surely weaker. The tools available to today's ice anglers are far more efficient than what was available in the not too distant past.
I recently visited with Jon Marshall from Marshall & Hanson on the Fish House Nation Podcast. Jon has been in the fishing industry for years and his company, Marshall & Hanson, represents Eskimo and Ion Augers. Eskimo and Ion have a full line of augers starting with a simple hand auger going all the way up to their new G2 Electric Auger. We discussed the advantages and disadvantages to each type of auger. You can hear our conversation by clicking on the audio player below. If you'd rather read, keep scrolling.
Electric augers are now the norm. Several brands are on the market with purpose-built electric-powered augers that slice through ice. Have a nice electric drill for household projects? You can simply buy an auger attachment and hit the ice running. While electric power seems to be the latest rage, there are still a lot of people using gas and propane-powered augers. Even hand augers have become more and more advanced.
Hand Augers
Hand augers are simple and easy to use. They are people-powered, meaning you don't have to worry about gasoline or charging batteries. They are lightweight and there is almost no maintenance other changing the blades out once in a while. According to Marshall, hand augers offer a number of advantages. "It starts with price. These aren't the hand augers of yesteryear. We all grew up with those and it was a lot of work. These are razor-sharp and precision-tuned. They pack up really small and don't take up a lot of room in your sled."
While the cost of entry is low and technology has made hand augers better than ever, they can be tiring to operate compared to power augers especially when the ice gets thick. But during early ice, hand augers can be a great option.
"We're not in a one auger scenario anymore. I grew up with one auger. That's what I used from first ice all the way to last ice," said Marshall. "Now guys are finding it's nice to have multiple options to fit the season and the style of fishing for that particular day."
Gas and Propane Augers
Electric augers weren't an option a decade ago. If you were shopping for an auger there were three choices; hand, gas, or propane. If you're looking for the ultimate in power, gas and propane augers may still be the best choice depending on how you fish.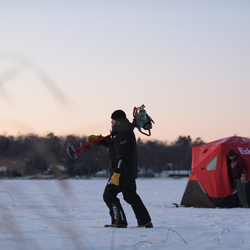 "The big advantage when we're talking about this category is the ability to refuel on the ice. When you get tired, you're out of fuel with a hand auger. Electric augers run off of batteries. You can buy multiple batteries but those batteries come with a cost. This is where your style of fishing is going to come into play in choosing an auger," said Marshall.
If you're fishing familiar waters you may only need to drill a few holes to get to the fish you're looking for. You may know where they are why they want to be there. But if you tend to travel to several different lakes that you're not acquainted with, you may need to drill hundreds of holes. With a gas or propane auger, the amount of holes you can drill is only limited by the amount of fuel you take out on the ice.
The disadvantages to gas and propane augers are primarily weight and fumes. These augers generally weigh over 30 pounds although propane augers are usually slightly lighter than gas augers. Gas-powered augers put out more fumes than propane but both are noticeable, especially when fishing inside a hardhouse. Propane-powered augers don't require fuel mixing like gas augers but you will need a supply of propane when you're on the ice.
Drill Bit Augers
Drill bit augers are becoming increasingly popular. If you already own a quality drill for home improvement projects, drill bit augers can be an economical choice compared to buying an electric or gas auger. Marshall says the advantages are numerous.
"Drill bit augers have been one of the top trends in augers. You get the benefits of electric. No fumes if you're drilling inside a shack or a wheelhouse. No mixing(of fuel). That eliminates a step in the process to go fish. I don't have to go get gas. I don't have to mix it. I don't have to worry about fumes. The big advantage to these is weight. The Eskimo Drill Bit weighs in at four pounds. You pop a drill on it and it's seven pounds. Compare that to 34 pounds in a power auger."
Another selling point hardhouse anglers will value is portability. At the end of your fishing day, you can take the auger off your drill and store it easily under a couch or in the closet of your hardhouse. All you need to do is take your drill home for charging. It makes getting on and off the ice easier with less clutter.
There are a few things to keep in mind. If you don't have a high-quality drill, investing in one and pairing it with the cost of the auger puts the price tag of this setup right up there with a purpose-built electric or fuel-powered auger. If you're planning on a big project around the house, you can easily rationalize the money. If not, you may want to consider a different auger. There are plenty of anglers on the ice that have used the same drill for years but construction drills are designed for construction projects and the wear and tear of an ice season can shorten their typical life span.
Electric Augers
Electric augers are no longer considered a fad. Most power augers sold today are electric augers. Their ease of use is second to none. You don't have to mix gas. You don't have to pull a rope to start them. Simply push a button and they cut ice. ION Ice Augers have a reverse feature that allows the user to flush slush back down the hole. Many ION owners don't use an ice scoop to clean their holes anymore.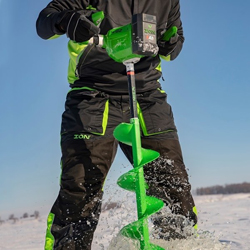 Weight is also an important consideration. The new for 2019 ION G2 Auger weighs in at just 17 pounds. "It is the lightest, fastest, and longest-lasting electric auger on the market," said Marshall. Even the previous electric auger models are more than 10 pounds lighter than the typical gas auger.
For wheelhouse anglers, the biggest advantage of electric augers is probably the cleanliness. There are no exhaust fumes and no gas smell. You can leave the auger in the house when you're fishing and not worry about gas leaking on the floor or anywhere else.
There are some factors to consider when looking at electric augers. All of the advantages of electric come at a cost. Electric augers are not inexpensive. ION augers start at $449 and go all the way up to $749 for the new G2 model. If you want to couple your auger with an extra battery for more drilling capacity, you could pay about $150 more although sometimes bundle packages are available with better pricing for the second battery. Either way, it's a significant investment.
If you run out of fuel while using a gas auger, all you need to do is pour in more gas. Once your batteries are depleted with an electric auger, you're done drilling holes for the day.
Marshall says it's important to take a hard look at how you fish before pulling the trigger on a new auger. "The standard ION runs a three amp hour battery. It's going to get you 1,000 inches of ice per charge. For 80% of anglers, that's probably right where they need to be. The ION X uses a 5 amp hour battery. That's going to get you 1,600 inches of ice per charge on the 8-inch model. The new G2 uses a 6 amp hour single-cell lithium. That's going to get you 2,000 inches of ice on a charge. If you're a wheelhouse guy and you may pop 8 holes inside and 2 holes outside for tipups, one thousand inches of ice is probably all you need. Those are questions you need to ask yourself on the path to purchase. What's the right auger for me? What's my style of fishing? And then you can work backwards into picking the right auger that meets your needs."
Whether you choose a hand powered, gas, propane, or electric auger, you will also have to decide the hole size. If you plan to chase big fish, a 10" auger might be in your future. But bigger isn't always better. If you fish with kids, having smaller holes can be a big advantage. Nothing will end a day on the ice faster than a cold youngster and bigger holes are easier to drop a leg down. The biggest advantage to a smaller auger is energy savings, both to the auger and the operator. According to Marshall, bigger holes take more effort to open. "It doesn't matter if it's a hand auger, a drill auger, a power auger, or electric auger. Any time you go up two inches in circumference, you're moving 60% more material."
All ice augers have their advantages and disadvantages. Breaking down how you fish before buying is the best way to get the right auger for you.