Posted by Chris Larsen on 25th Oct 2019
One of the best parts of hosting an ice fishing podcast is getting a chance to talk to some of the best anglers on the ice belt. I often ask them what the difference between an average ice angler and an elite angler is. Time and time again the answer is "the little things". Attention to detail separates the guys who catch fish when everything aligns and those who consistently pull fish through the ice no matter the conditions.
"I notice with really good fisherman, what comes up time and time again is attention to detail. Whether it's using a certain knot to make sure the bait hangs at a certain angle. When I thread plastics on making sure those plastics are threaded on exactly horizontal if that's what I want to achieve. That makes a difference when they're neutral. When they're really pounding you can drop anything down there and they'll eat it. It makes a difference when conditions are adverse."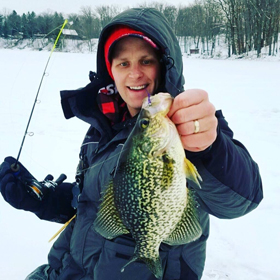 That's Scott Wilhelm, fishing manager at the Eau Claire, Wisconsin Scheels. Making sure your jig is hanging correctly can make the difference between getting a bite or having a fish swim away without giving you an opportunity to catch it. I've seen some anglers test their presentation in a bathtub or five-gallon bucket of water. They're looking to see how that jig or lure looks when it's sitting still and how it reacts to different kinds of rod movement.
Stepping outside your comfort zone is also a great way to learn. If you keep doing things the same way it's difficult to learn new techniques and tactics. Wilhelm believes getting out of your normal routine is a great way to put more fish in the bucket, especially when the bite gets tough.
"Don't be afraid to try some new stuff. I think people, especially ice anglers, can get stuck in the rut. They use the same purple jig they used in the mid-80s. They haven't lost it and they haven't cut it off. New techniques, new spots."
Speaking of taking the road less traveled, how many times have you showed up to a new body of water and immediately rushed out to the nearest shantytown. We're social creatures and seeing all those anglers in one spot has to mean the fishing is good there, right? Paul Ghizoni of Minnesota Made Outdoors doesn't buy in to that strategy.
"Get away from pressure. Ice fishing has grown into a sport where it seems like you want to be around other people. It's almost like a social gathering in some lakes. You can go out to one of my favorites, Rush. You can go out there during early ice and there are hundreds of people out there. It's a good time. But what I would say is, get away from the crowds. Get away from pressure. Find your own fish. Because it can be really rewarding when you do."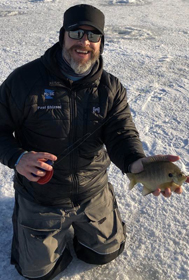 Ghizoni often fishes heavily pressured water in the St. Paul/Minneapolis metro area. The fish he is targeting see a variety of presentations throughout the winter. He prefers plastics over live bait for a number of reasons.
"Most of the lakes we fish in the metro, I'm a believer that most of the fish have seen the same presentation. They've seen a school of minnows swim by. I think I can catch more fish on a piece of plastic and not have to worry, "did I just lose my live bait?" if I get bit and miss a fish. I think it's a confidence game."
Confidence is key to just about anything you're doing. If you believe the fish aren't going to bite no matter what you do, you're probably right. Ghizoni told me one of the most rewarding aspects of ice fishing for him is sharing knowledge and even some gear to help other people catch fish.
"Plastics, what I love about them is, I can share them. I can get a bag of plastics for a few bucks and fish with them for a month and go over to a guy and say "here, try this." Once he catches one or two crappies on a piece of plastic that confidence starts to come back. It's just more fun."
Todd Heitkamp of Dakota Angler in Sioux Falls, South Dakota is one of the go-to guys for information on fishing in the Dakotas. But his day job is working as a meteorologist with the National Weather Service in Sioux Falls. Heitkamp believes monitoring the weather can help maximize your time on the water.
"All of the electronics that we have, depth finders, you name it. We can find where the fish are located. We can use the latest bait and lures to try to attract them but whether or not they bite, we can't control. We can't control the weather. We need to learn how to interpret the weather and how to use the weather to our advantage and realize we are going to have to change our tactics based upon the weather."
Most of us have jobs, families, and other responsibilities. Being able to drop everything and only fish when the time is right is going to be difficult for most. But a little information can go a long way.
"You gotta go when you can go. Don't let the weather dictate it. But things you can look for are as easy as the wind direction. If the wind is out of the south, that means the pressure is going to be falling and the fish will be on the prowl looking for food and they will come to you. When the wind is out of the north and you've got those clear sunny days and the wind is hardly blowing those are those high-pressure days that's when the fishing is going to be a little bit tougher because the pressure is the highest. You need to be a little more active and go kamikaze fishing as far as drilling holes. So just paying attention to the wind direction will tell you what's going to happen as far as a method in trying to find those active fish."
Troy Peterson is known as Mr. Bluegill. He guides anglers throughout Northeastern Wisconsin on the ice and open water. He believes the type of reel you use can make a tremendous difference in how many fish you catch.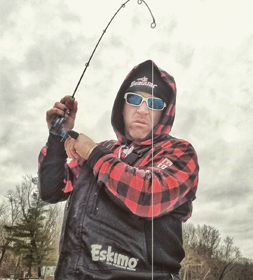 "If a guy does straight line and wants to be able to feel the bite and get rid of the coils in your line, pretty much everything I use is going to be a straight line reel. Because of the cold, line definitely tends to retain a memory and that's one thing you want to try and avoid. I use pretty much all 13 Fishing Black Bettys. With ice fishing, we have to worry a lot more about freeze-ups that you really don't have to worry about in the summertime. Simplicity is sometimes better."
Troy says most anglers don't pay attention to their drag when ice fishing but having a good drag on your reel and knowing how to use it can make a difference when hooking into bigger fish.
"We're using such light lines. A lot of times, 1,2,3 pound test. If you have a reel that has a good drag on it that still works well in the wintertime you can fight those big fish when you hook into a big walleye while you're perch fishing or crappie fishing."
Thanks to all of our guests this week… Scott Wilhelm, Paul Ghizoni, Todd Heitkamp, and Troy Peterson.