Posted by Chris Larsen on 3rd Dec 2019
The St. Paul Ice Fishing & Winter Sports Show is coming up this weekend, December 6-8, 2019. The largest ice fishing show in the world takes place at the St. Paul RiverCentre, right next door to the Xcel Energy Center. Catch Cover will be at the show in a new space this year, right at the bottom of the escalator as you enter the show. We'll be recording episodes of the Fish House Nation Podcast in the booth all weekend long so be sure to stop by and say hello.
To listen to an audio version of our St. Paul Ice Fishing Show preview click on the player below. Scroll down to read on.
The St Paul Ice Fishing Show hosts nearly 30,000 attendees and about 200 exhibitors. It is the largest ice fishing show in the world. Just about everyone who is in the ice fishing industry is at the show in some capacity. We recently talked to Steve Hanson about the show. Steve represents Eskimo Ice Fishing, Ion Augers, and Catch Cover as a manufacturer's representative. "St. Paul is really the destination to find everything that you would want to see and learn about. You can hear from top pros on the angling side to get the best information. It's a great, fun time that we all look forward to. There's obviously a lot of planning that goes into it. It can be helter-skelter. But that's part of the fun."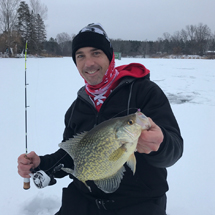 There is definitely a ton of gear at some great prices to be found at the show. But Hanson says the true value of going to the show is getting a chance to talk to experienced anglers and manufacturers. If you want to learn more about ice fishing and take your knowledge base to the next level, spend some time shaking hands and talking to people in the booths. "It's really about gathering information and utilizing the resources that you have at the show which is why some people go back not only for one day but for a second day. They might want to do seminars one day and more product stuff another day. Take the time to learn from folks that are doing this on a daily basis."
The show is an excellent learning and buying opportunity for consumers. Hanson says manufacturers are also using the show as a knowledge resource. "What manufacturers really take the most from the show isn't by what people ask for that day but what they ask for that we don't have, needs that the market needs met. New product ideas come about because you have such a community of anglers in one spot."
Whether you're an experienced ice angler or new to the sport, Hanson urges everyone to check out the show. At the very least, it's a lot of fun. "In terms of scale, there's nothing like it in the world. If you haven't been to it, you need to go because it's something you'll want to come back to that's for sure."
The St. Paul Ice Fishing & Winter Sports Show kicks off on Friday, December 6th and wraps up on Sunday the 8th. For more information, you can visit their website at StPaulIceFishingShow.com. For more information on Eskimo Ice Fishing Products visit geteskimo.com. If you're attending the show, please stop by and say hello. If you can't make it keep an eye on the Catch Cover Fish House Nation Facebook page, we'll be putting up live updates throughout the weekend.