Posted by Chris Larsen on 23rd Jul 2020
Randin Olson from Lock Jaw Guide Service operates a fleet of six wheelhouses in Otter Tail County, Minnesota during ice fishing season. Putting clients on fish is his business. Knowing when and where to put a wheelhouse on the ice is what makes Olson's guide service successful. He recently shared some of his best tips for catching more fish from a wheelhouse.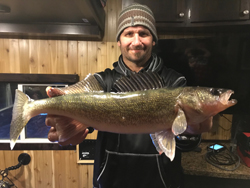 Lake maps and the Navionics app are a good start. "I'm sure everyone has heard "the spot on the spot." Those are the types of things you're looking for when you're going to set a wheelhouse down. A wheelhouse isn't something you're going to pop up and move every half hour. You're going to sit for a night and maybe sometimes up to a week or so. Spending a little extra time to hone that spot on the spot is going to pay dividends when it comes to how much you're catching in the wheelhouse," said Olson. "It's those tiny little things. You almost have to think like a predator and find those little places where the fish are going to ambush and where they're going to want to come up and feed."
Wheelhouse placement can also depend on how you use your house. If you plan on fishing from the house all day, travel corridors are perfect. "There are two places I love to set houses. One is a travel corridor, which is a steep break line. You can set up with one side of the house deep and one side shallow to kind of cover that break line. Those fish are just moving. So if you're looking for more day time stuff that's a great place to be. You can find a little notch, little point, or little irregularity that's a great place to set it up if you're looking for more daytime fish, especially for walleyes."
If you like to move around a bit during the day and come back to the house at night, Olson has a different gameplan. "If you're looking for a nighttime bite. You're going to run and gun all day long and come back after dark and sit in the house then you're going to look for something that is a little different. It might be a mid-lake hump that is two acres big but there might be a little rockpile on it, or maybe there's a little finger that sticks off of it or a grass bed somewhere. Take the time to drill those extra holes and find that little sweet spot and put your house right up on top of that. The fish will be on top feeding and you don't have to be in a big rush to get back from running and gunning all day."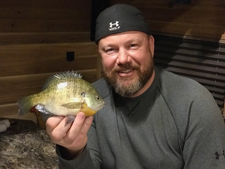 It seems like just about every lake has a shanty town. Crappie anglers like to set up in big holes but Olson says finding productive areas around those holes will lead to more successful fishing. "Everyone goes in the winter and finds the deepest hole and they set up and start fishing. And there are crappies that will be in the deepest hole all year but there are mud basins around those deep holes and they will have little sweet spots in them. It will take a little time to find those areas but there will be spots that will be more rich with bug life, more aquatic activity that will produce better."
According to Olson, one of the biggest mistakes wheelhouse anglers make is limiting themselves to the house. Having the tools like rattle reels, rod holders, and tips, allow an angler to cover a wider area while fishing. "A lot of these fish houses have six to ten holes in them. Limit what you have set up in the house. Spread them out in the house, maybe put two or three down in the house and put some tipups out so you can really cover that area."
Finding the right spot often comes down to experience and putting your time in on a body of water. Find an area with potential and try to pinpoint smaller areas within it. Some will be productive, some won't. "Everything relates to some kind of structure. They use it as an ambush point. By starting with the biggest piece of structural element, you're giving your self the highest odds of connecting with the bigger schools of fish in that area. Small spots, small schools. Big spots, big schools. Once you find that big area, break it into smaller pieces. Start on one side and work your way around it. Look for something that is different that is going to hold fish. Any little difference can be a big key factor."
Randin Olson is a recent guest on the Fish House Nation Podcast. To listen to the full episode, press the player below or click here to go to our podcast page.