Posted by Chris Larsen on 4th Jun 2020
Free Fishing Weekend is a program designed to introduce people to fishing at little or no cost to them. In Wisconsin, a free fishing weekend is held in both the winter and summer. It's a great idea that allows people to fish without a license during the weekend. The hope is they will enjoy it and purchase a license for later in the year and for years to come.
Theresa Stabo is an R3 Coordinator with the Wisconsin Department of Natural Resources and a recent guest on the Fish House Nation Podcast. R3 is a program designed to recruit, retain, and reactivate anglers, hunters, trappers, and shooting sports enthusiasts. "Free Fishing Weekend has been around since 1987. We've been able to invite people out, they can invite their friends, neighbors, and family members out to go fishing."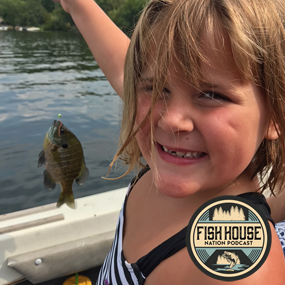 In 2020, Free Fishing Weekend has a different dynamic due to COVID-19. Stabo says this year the event has been scaled back to facilitate social distancing measures. "Other years, we've held clinics. This year we're asking people to take people from their own household, their roommates, family members, or people they've been living with and invite them to go fishing. It's an opportunity to get people to try to find out what fishing is all about and explore the waters of Wisconsin."
There are no license requirements but other regulations are still in effect. "You don't need to have a license and that holds true for trout and salmon stamps. No license, no stamps required. We do expect people to still abide by the other rules - size limits, bag limits, and species restrictions." said Stabo. If you're fishing border waters, you will need to stay on the Wisconsin side of the body of water.
"If you have some dusty equipment in the back of the garage, this is the time to dust it off and give it a try." - Theresa Stabo, Wisconsin DNR
Fishing is a great way to get back to your roots as an outdoor enthusiast. "We want people to form a connection with the resource. We want them to take ownership in the resource. All the waters of Wisconsin belong to everybody. All of the lakes and streams, that belongs to us. It belongs to you and me. It belongs to our neighbors. We want people to go out there and know that it's in their hands. We want people to have a great time. People have been stressed these last few months. This is a great opportunity to go out and experience the restorative qualities of being at the water's edge and form a relationship with it."
To hear the entire conversation with Theresa Stabo, click the player below or visit our podcast page by clicking here.