Posted by Chris Larsen on 22nd Sep 2020
Ice will be forming on lakes in a few months and 2020 is sure to be a big year for anglers across the ice belt. More anglers than ever are expected to be on the ice. New and veteran ice anglers alike are considering a wheelhouse. Is buying a used wheelhouse a good idea? It depends on many factors including budget and how you intend to use the fish house.
We recently visited with Gabe Gilsrud from Northland Auto Center in Milaca, Minnesota. Northland Auto Center is a leading dealer of new and used wheelhouses. Gilsrud says there are several reasons people buy wheelhouses. "As people, especially families get involved in the sport, needs change. What worked for you last year may not be the case going forward. You might be looking to downsize as kids leave the house or you may be looking to upsize as you add to the family or your friends list because you're the guy with the wheelhouse."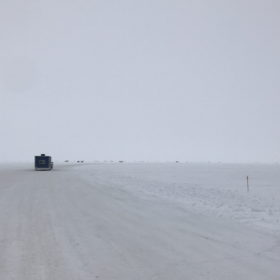 The big reason for buying used compared to a new house is price. "Obviously, there is a cost savings involved if you're buying used, especially a name brand unit. However, on the other side when you're looking at home built, there are some really interesting concepts and ideas that get used that you just can't buy in a name brand fish house. So there's a whole gamut of options to pick from but some people have put a lot more thought in the use of the fish house than others."
With those cost savings comes risk. "Really it's buyer beware. When you're buying used typically there's not a warranty. You don't know the history of how the trailer is balanced. How the tires wear or don't wear. There's a lot that you learn after you buy a used anything. It might be really good, it might be really bad. The red flags are spongy floors. People tend to buy with emotion. They might see something and think "hey, this is it. It looks sharp. It's got the right price. I'm just going to go for it. I can make this happen." In hindsight, many people find themselves in remorseful situations because they didn't take the time to do their due diligence."
According to Gilsrud, there are a few key places where problems typically arise. "Spongy floors come from leaks, be it around windows, the roof, even from underneath. When it comes to this type of purchase, I would approach it like a boat. It's one of those things that can get very expensive very fast. You really need to be very meticulous with your inspection. Take a look underneath it. Take a look at the roof, bring a ladder… If it's a rubber roof make sure there are no tears. If it's a steel roof or an aluminum panel roof make sure all the seams look tight. Caulking around windows is huge… Check out those intersections. Anywhere water can get in is a potential spot for rot & mold. Those are the biggest things."
After you're done checking the house and frame, take a close look at the tires and wheels. "There's tire wear issues from bad axle alignment. As a buyer, a red flag would be brand new tires. I'd like to see something with some age to it so you can see that it's been down the road and you can see what is going on. If you're pulling up to one that is used and you can see that the wheels are tipped in or pigeon toed. Or if it looks like there's been some repairs done, maybe the spindles have been welded on a few times. Those would indicate to me that maybe there's been an overweight situation or it's been through some trauma."
Before buying a new or used wheelhouse, Gilsrud recommends thinking through the entire process before shopping. "You've got an unending list of sizes, options, and layouts. If I was shopping right now for a used one, I would first determine my size and layout. What is it that I want to tow? What is it that I want to do in my house. Then I would find a handful of houses that meet those criteria and then establish my budget. You might find a standout that is a no brainer. It's what you want at a great price. That's how I would approach it. I wouldn't say, "I've got $6,000 and I'm going to go buy a wheelhouse." Go try to buy the biggest one or the most loaded one. You're going to find that house probably isn't what you're after."
To listen to the full conversation with Gabe Gilsrud from Northland Auto Center, visit our podcast page by clicking here or click the media player below.