Posted by Chris Larsen on 24th Nov 2020
Lake of the Woods is one of the most legendary ice fishing destinations in the world. It covers more than 1,600 square miles, has over 65,000 miles of shoreline, and 14,000 islands. The lake stretches from Northern Minnesota into Canada and eventually flows into Hudson Bay. To ice anglers, and especially fish house aficionados, Lake of the Woods is where walleyes are king and memories are made.
Joe Henry from the Lake of the Woods Tourism Bureau is a recent guest on the Fish House Nation Podcast. Henry says part of the allure of Lake of the Woods is its vastness. "Lake of the Woods is a big watershed. I like to break it up into three parts. You have the Rainy River that feeds Lake of the Woods. The Rainy River comes out of Rainy Lake. It flows straight west for about 60 miles, hits Baudette, then turns north 12 miles, and then feeds Lake of the Woods. We really don't promote the river too much because it's the river. You really have to know where to go. Locals fish it but for the public it's tough. The second part is Big Traverse Bay. Big Traverse Bay is big water where a good part of the ice fishing happens. It's about 30 miles north/south by 25 miles east/west… There's not a lot of structure. There is structure out in the west part of it and the northeast corner but for the most part, it's flat mud. The deepest spot in Big Traverse is about 37 or 38 feet deep… The whole thing is very prolific with life. It's like a huge aquarium filled with forage, walleye, sauger, pike, tullibee, jumbo perch, and you can go on and on."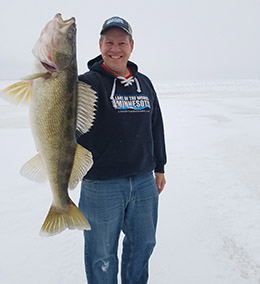 The Northwest Angle is the northernmost part of the contiguous United States and Henry says "The Angle" is the third part of the Minnesota portion of the lake. "We have about a dozen resorts up at the angle. With the border shutdown during the pandemic, it's hard to get up there because normally you would drive through Canada for about 40 miles and enter back into Minnesota. Because of the pandemic, it's been shutoff. But you can still go and stay in Minnesota if you go by the lake. There will be some opportunities by sled and we believe by automobile there will be some access."
With the border closed this year, US anglers will have to stay on the Minnesota side of the lake. Henry says that won't be a problem. "The vast majority of ice fishing takes place on Minnesota waters. There are some that venture into Canada. They will go over there and catch walleyes and lake trout if they go way east or there are some crappie areas too. They will go get some black crappies. But the vast majority of the people stay on the Minnesota side of the lake."
Getting around on the lake would be impossible without the roads plowed and maintained by lakefront resorts. "We have a really good series of ice roads. So whether people want to pull up their wheelhouse or fish out of a collapsible. They can pay for ice road access from one of the resorts that offer an ice road and go out and get it done on your own. The one thing I'll say about fishing on your own is to make sure you're communicating with that outfitter and don't go too far off the beaten path, especially early and late in the year. Follow those ice roads and stay close to them. Don't think I've got to get so far away from traffic that I'm going to go four-wheeling on my own. That's where people get in trouble with ice chunks or getting caught in a crack"
People venture to Lake of the Woods to pursue walleyes and there are plenty of them. "We call it the Walleye Capital of the World. That's with all due respect to other lakes and rivers in the Midwest. That's our marketing tagline but it's there for a good reason. We have millions of walleyes in our system with all different year classes. When a walleye is underneath you when you're fishing and a sauger comes in on your electronics that's still a cool line you're fishing. You're still going to fill that thump, and you're going to have a nice bite, you're going to have some food at the end of that to have a fish fry with. The walleyes and sauger make it an enjoyable day. You're going to have a pike mixed in, jumbo perch, tullibees, once in a while you'll get a crappie... once in a while you'll get an eelpout or burbot. People like to cook those as an appetizer. You'll hook into a sturgeon and have a fight for an hour and a half if you're lucky to get it in. There's a lot of variety and activity on your electronics."
Lake of the Woods is an immensely popular wheelhouse destination. But if you don't have a wheelhouse you can still enjoy fishing out of a permanent shelter. Resorts offer overnight houses and day houses. Henry says one of the great aspects of Lake of the Woods is an active daytime bite. "Our water is stained water. That is key. On clear water lakes, the best bite is going to be the golden hours of sunrise and sunset or when it's actually dark out. When in Rome do as the Romans do. If that's when your bite is going to be, you have to take advantage of it. But most people would rather fish when they're used to being awake and that's the daytime hours… When I say stained water what it is is our watershed drains from the south. There are a lot of bogs south of us. The bogs put natural plant material into the water called tannins. The tannins stay in the water and give it a tea or coffee color. So we have naturally stained water… That stained water makes it so those walleyes prefer to feed during the day rather than at night."
If you're making the trip, Henry says to add some glow and vibration to your tackle box before stepping on the ice. "Because of the stained water, there are some things I like to recommend for people coming to Lake of the Woods when it comes to how walleyes live and how they seek their forage. First off, colors. In stained water, gold, glow, pink, orange, chartreuse, or a combination are very important colors and of course, a little vibration. When you're fishing with another angler or two in a fishhouse, I encourage you to use different things at first. In Minnesota, you're allowed two holes. So you're going to have one jigging hole and one deadstick hole… Your jigging line is going to not only attract fish in but it's going to catch more active fish. If the fish are in a more neutral mood, you may not catch them on your jigging line but they might slide over and get your minnow on a plain hook or an ice jig."
Listen to the entire conversation with Joe Henry by clicking on the player below or visit our podcast page by clicking here.