Posted by Will Allen on 18th Oct 2023
Ice Fishing is almost here! One of the things that makes ice season so special is the anticipation. Many of us are thinking about ice fishing and preparing for ice fishing long before we actually step on the ice. Ice fishing shows bridge the gap before the ice forms. It's also a lot of fun to be around the people who share our passion for ice fishing and see all of the new gear for the year. If you're lucky enough to live near a great ice fishing retailer, we urge you to visit their stores and make your purchases there. But visiting ice fishing shows is still a ton of fun. Here's a full list of all the Midwest ice fishing shows we know of. Check online before traveling to confirm details.
Joe's Ice Fest
October 21, 2023
Joe's Sporting Goods - St. Paul, Minnesota
The first ice fishing show of the season in the Midwest, Joe's Sporting Goods packs its parking lot with shelters, and inside the store, you'll find a multitude of deals on electronics and more. It's a one-day event from 10 am to 5 pm. It's a store event but manufacturer's reps from most major ice fishing brands are on hand. Admission and parking is free.
North Metro Ice Fishing Show
October 28-29, 2023
Adrenaline Sports Center - Ramsey, Minnesota
This two-day event features a wide selection of ice fishing gear from manufacturers across the ice belt. Inside the Adrenaline Sports Center, find augers, lures, electronics, shelters, and anything else you need to hit the ice this winter. Outside, browse through the wheelhouses and grab a bite to eat from food trucks. The show runs from 9 am to 5 pm Saturday and Sunday and tickets range from $7 to $10.
Dakota Angler Ice Institute
November 10-12, 2023
Sioux Falls Arena & Convention Center - Sioux Falls, South Dakota
One of the biggest shows of the year is hosted by Todd Heitkamp and the team at Dakota Angler. It's a 3-day show that starts Friday afternoon and runs through Sunday. You'll find great deals on all things ice fishing and there is a jam-packed schedule of guest speakers. Parking is free and admission is $7 per day or $15 for the weekend. Want to learn more about the Dakota Angler Ice Institute? Check out our recent interview with Todd Heitkamp by clicking here.
Kabele's Trading Post Ice Fishing Event
November 11, 2023
Kabele's Trading Post - Spirit Lake, Iowa
Like the Joe's Ice Fest in October, this is an in-house show at one of the top independent fishing retailers in the Midwest. It's a one-day event that is free of charge and starts at 9 AM Saturday morning. Manufacturer's reps and pro-staffers will be on hand to help answer any questions you may have.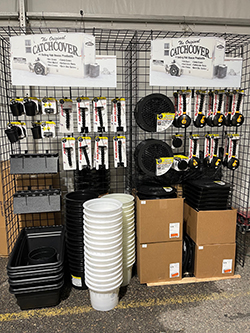 Scheels Ice Fest - St. Cloud
November 7-12, 2023
Scheels St. Cloud - St. Cloud, Minnesota
An awesome show in Central Minnesota. The first few days feature online seminars and in-store specials with the tent event running Friday-Sunday. Like all the other retailer events, admission and parking is free. Reps and pro-staffers from all major brands will be on hand. This kicks off a handful of Scheels events throughout the early portion of the season.
Sioux City, IA - November 18
Eden Prairie, MN - November 17-19
Rochester, MN - November 17-18
Mankato, MN - December 2
Sioux Falls, SD - December 8-10
Scheels Ice Fest - Fargo
November 17-19, 2023
Scheels Fargo - Fargo, North Dakota
The biggest of the Scheels shows, Fargo is a must-visit for all ice anglers in the area. Visit with top pros, browse the latest gear, and cash in on some great deals at this event.
Blaine Hardwater Expo
November 17-19, 2023
National Sports Center - Blaine, Minnesota
The Blaine Hardwater Expo features some of the top manufacturers, retailers, and thought leaders in the sport of ice fishing. Many consider this show to be a smaller, less crowded preview of the St. Paul Ice Show. Parking is free. Admission is $12 for adults and $7 for youth 12-17 years old. 11 and under are free. A weekend pass is $33.
St. Paul Ice Fishing Show
December 1-3, 2023
St. Paul RiverCentre - St. Paul, Minnesota
The biggest and most attended ice fishing show in the world, the St. Paul Ice Fishing Show has everything an ice angler is looking for. It's a busy show but if you would like to beat the crowds, a VIP ticket purchase gives you early access to the show. For more information on the St. Paul Ice Fishing Show, click here.
Kurt's Island Sport Shop Ice Event
December 2, 2023
Kurt's Island Sport Show - Minocqua, Wisconsin
One of the top ice fishing retailers in Wisconsin hosts a one day event that anglers in the area shouldn't miss out on. See all the gear you're looking for this season and chat with local guides and manufacturer's reps. It's a free event with free parking.
Arrowhead Ice Fishing Show
December 8-10, 2023
The Duluth Events Convention Center - Duluth, Minnesota
The Duluth Show is one of the last big ice fishing shows of the year. All of the gear you're looking for including wheelhouses are under the roof at the DECC. A Duluth holiday tradition, Bentleyville, is nearby so bring the entire family. Discounted tickets are available online or you can pick up your tickets to this three day show at the door.
Wisconsin Ice Fishing Expo
December 8-10, 2023
Sunnyview Expo Center - Oshkosh, Wisconsin
It's been a few years since we've had an ice fishing show in Wisconsin that wasn't based in a retail store. The Wisconsin Ice Fishing Expo in Oshkosh is a three day event featuring a kid zone and sporting all the hot new ice fishing products for 2023. Parking is free. Adult tickets are $10. Kids 12 and under are free.
Reeds Ice Classic
December 8-10
Reeds Family Outdoor Outfitters - Walker, Minnesota
Reeds has a huge booth at the St. Paul Ice Show and then hosts their own store event the next weekend at their Walker, Minnesota store that's a short walk from the shores of Leech Lake. It's an instore event so there is no admission or parking fees and you're sure to find some great gear at an incredible value.
Other shows that wrap up the ice fishing show season include Frank's Great Outdoors Shanty Days in Linwood, Michigan and The Woods Ice Event in Warroad, Minnesota on December 8-10. Jays Sporting Goods, also in Michigan, has their Ice Fest Days the weekend of December 15-17.