Posted by Chris Larsen on 30th Oct 2022
Minnesota has a new state record hybrid sunfish. Aaron Ardoff from Kandiyohi County caught the bruiser sunfish while fishing from shore on September 18, 2022 on Green Lake in his home county. Sunnies are usually caught on small jigs but the new state record walloped a spinner bait Ardoff was using to target bass and northern pike.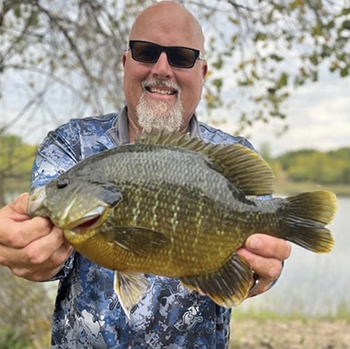 "As soon as I started reeling, I could tell this wasn't fighting like a pike or bass," said Ardoff. "When the fish got closer I could see that it was a sunfish and I started panicking! I kept telling myself to not go crazy and just get it in."
Ardoff brought the fish to a local tackle shop where a DNR fisheries supervisor confirmed the fish as a hybrid sunfish and witnessed the weigh-in on the shop's certified scale. The fish weighed one pound 12 ounces and tied the weight-based state record. The previous record hybrid sunfish was caught on the Zumbro River in 1994. Ardoff's fish is 12-inches long, one-half inch longer than the previous record holder. It also carried an inch more girth than the previous record holder. However, state records are determined by weight so both fish share the state record title.
A hybrid sunfish is a cross between two species of sunfish. Other sunfish state records include a bluegill weighing 2 pounds 13 ounces caught in 1948, a green sunfish weighing 1 pound 4 ounces caught in 2005, and a pumpkinseed weighing 1 pound 5 ounces caught in 1999.
Trophy panfish are becoming exceedingly popular, especially among ice anglers. Want to learn more about trophy panfish and panfish management in Minnesota? Check out our podcast with Dave Weitzel from the Minnesota DNR by clicking here.