Posted by Chris Larsen on 10th Nov 2020
Mark Bieganek is a lifelong ice angler on Red Lake. During the ice season, you can often find him helping people get on the bite out of West Wind Resort. In 2019, ice conditions were terrible on Red. Ice formed early and then it was snowed on. This weather situation led to a lot of water on top of the ice and houses were flooded in. Hopefully, ice conditions will be better in 2020 but fishing regulations have changed. Beginning Saturday, November 1, 2020, Upper Red Lake will have a three-walleye bag limit with only one fish over 17 inches allowed. This is a drop from a four-walleye limit last winter.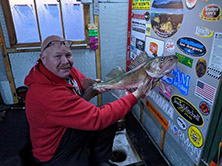 Bieganek says the fishing on Red Lake is hot into early summer but once the dog days arrive, the bite turns off and so does the pressure. The number of anglers going after walleyes on Red significantly decreases and they end up putting on a ton of weight while pounding the shiner and perch forage base. "When early ice comes, these fish are as fat as footballs and they're hungry. Guys come up and they'll bring up their fish finders. I've seen it many times where guys are in the hundreds of catch-and-release walleyes on Red Lake. I've always said Red Lake is like a dog dish. It freezes quickly and easily. When you get good, fishable early ice, this is the mecca. This is where everyone comes."
Red Lake doesn't have a lot of structure. Small changes in depth can draw bait and in turn, hold fish. "A couple of feet in transition on the bottom is a big difference. You get up on Lake of the Woods and there are big reefs and lots of structure. Red Lake does have some rock fingers down by what I call Keller's Point and towards the old Kansas City Resort. There are some rock humps way out in the middle that everyone tries to get out to. It's about 12 feet all around and it comes up to about ten feet. In this basin, that's a lot of structure. It's a big difference and that holds a lot of fish."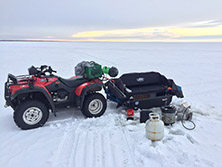 If you're new to fishing Red Lake, Bieganek has two pieces of advice for you. "These fish are nomadic. They're always on the move. I like to use a Buckshot Rattle Spoon or anything with a rattle. A Lindy Rattlin Flyer is good. Keep on the move. If you don't graph or see anything within 10 or 15 minutes, move. That's just it. A two-foot contour or even a foot can make all difference in the world. When I was a kid everyone would see a group and go fish next to it. I say the opposite. If you see a bunch of people someplace, go the opposite way twice as far. Get away from them. These fish get spooked with any kind of racket on the ice. That's a big part of it too. Be mobile and get away from people."
Red Lake is a major destination lake for wheelhouse anglers. Bieganek says the lake transforms when the ice sets up. "There's a lot of people with wheeled fishhouses. I consider it like winter camping. People bring their families up. The bonus of it is they get to bring some fish up through the holes. Instead of sitting at a campground, they're bringing in a limit of Red Lake walleyes. You're able to get a lot of places with all of these resorts plowing roads. I remember growing up as a kid. When you looked at it at night you never wanted to even think about going out there. It looked like a big monster would have been out there. Now when I sit in my cabin at night it looks like the skyline of Chicago or St. Paul. These roads are going all over the lake. It's quite a road system out there."
The lake is managed by the Red Lake Band and the State of Minnesota. Bieganek says criticism of fisheries managers is common among anglers but he believes Red Lake is well managed by the responsible agencies. "Growing up here, I've seen it bad. You would go out there and catch maybe a few fish 13-15 inches, and that's all you caught. I just caught my personal best, a 28" walleye. I released it and thought, "that's unbelievable." I've never seen it before and never thought I would ever see it. It's quite a fishery. I think it's one of the best-managed fisheries in the state."
Upper Red Lake and Lower Red Lake make up the chain. The eastern half of Upper Red Lake is the only portion that non-tribal members can fish. "The tribe does not mark on the lake itself. On the shore, there are white signs that say Red Lake Tribal Land." If anyone has any kind of fish finder or GPS, you're going to find that the contour lines stop at the tribal water. A lot of the local resorts, especially the south shore, those guys skirt the line. Guys on the south shore, within a month, will be fishing on the north shore. Most people are educated not to go west of that road. That's the only barrier you'll have to know. If you do go on it, the tribe monitors it with snowmobiles. You'll get a ticket or lose your equipment. You have to be careful."
Mark Bieganek was a guest on the Fish House Nation Podcast back on Episode #20. To listen to the entire conversation, click the player below or click here to visit our podcast page.