Posted by Chris Larsen on 20th Oct 2020
Cody Roswick knows North Dakota's Devils Lake as well as anyone. He owns and operates Fin Hunters Guide Service and is on the ice five to seven days a week as long as the ice is safe. We recently visited with Roswick on the Fish House Nation Podcast to discuss what makes Devils Lake a legendary destination for ice anglers. Here are our Top Five Reasons to Ice Fish Devils Lake.
1. Abundant Fish Population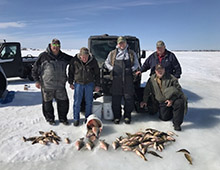 According to Roswick, fishing can be non-stop when conditions are right. "What's most special about Devils Lake is the sheer abundance of fish, how fertile the system is, and how large it is. It accommodates a lot of people and you almost always catch fish at Devils Lake, North Dakota."
An annual bumper crop of fish is actually built into the biology of Devils Lake. There are very few rough fish utilizing the food sources in the lake. "One thing that is unique about Devils Lake is that it doesn't have an abundance of species in it. It only has walleyes, perch, northern pike, white bass, a handful of crappies, and white suckers. People used to fish northerns with sucker minnows years ago. It's a closed basin. It doesn't have a river going through it. We don't have a lot of rough fish. No catfish, bullheads, sheephead, carp, or anything like that. What that does is gives us a higher biomass of game fish which obviously is a good thing if you're a fisherman."
2. Room To Roam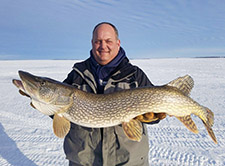 Devils Lake is about 175,000 acres and with so much productive water, there's a great fishing spot seeming around every corner. "The lake is full of structure. It's got little arms and bays everywhere. There's a lot of big rock structure in the lake. There's a lot of big weed beds and big flats. It really spreads everybody out," said Roswick.
"Devils Lake typically fluctuates a foot or two every year and that's the case this year. It came down a little bit late summer and into fall. The lake is full. It's about six-to-eight feet lower than it's all-time high. In comparison to what it was in the 1970s, it's up considerably. The water levels are fairly stable in the last five-to-ten years. It has really helped the fishery. We've got good spawning habitat and it shows out there. We have an abundance of walleyes. I'm hoping there's a lot of perch this year. There's lots of northern pike and white bass."
3. A Long Ice Season
Roswick says the lake usually starts to set up in December and anglers are often still enjoying fishable ice through March. "I guide five-to-seven days a week all of January, February, and March. Our early ice is typically around Christmas-time. At that time you have good, safe ice to get out on a four-wheeler or snowmobile to some of those early locations. Shortly after New Years, we are typically driving trucks or track machines out on Devils Lake."
4. An Exploding Walleye Population
Devils Lake is world-renowned for perch fishing. While the perch are still there it's not quite what it used to be. "It can be really good. It can be challenging at times. We always have walleyes to fall back on. The perch fishing is not the boom we had a few years ago but there is still an abundance of perch out there. If you get on them, they're typically nice perch. Last year eight-to-twelve inches seemed to be the number but they're a little plumper than your average perch. They're built like sumo wrestlers. If you get a nice one-pound perch, you can get a nice filet off of it. If you get on a nice pod, you can keep twenty a day. You add that to a handful of walleyes and a maybe couple of pike a day, it makes for some really good ice fishing."
As lake waters have risen, walleye reproduction has skyrocketed. There's more spawning habitat than ever and freshwater shrimp provides an ample food source. Roswick says a spoon with a minnow head is the go-to setup for walleyes on Devils Lake. "Small to medium-sized spoons for walleye. Mornings and evenings are usually a little better for walleyes. But there are days that you catch them all day. If you get a cloudy overcast day we like to capitalize on that and fish walleyes those days… The walleyes are typically a little shallower than the perch. The walleye spots are typically in the 10-to-20 foot range. You fish a lot of 25-to-45 feet for those perch.
5. Great Accommodations & Services
The Devils Lake area is a hunting and fishing paradise. There's no shortage of motels, lodges, and eateries. If you would like to hire a guide to get started on the lake, you can do that too. Cody Roswick with Fin Hunters Guide Service is one of many knowledgeable guides on the lake. You can find out more about Cody on his Facebook page by clicking here..
To listen to our entire conversation with Cody Roswick, click the player below or visit our podcast page by clicking here.