Posted by Chris Larsen on 23rd Sep 2020
Fishing in a wheelhouse has a lot of advantages. It's warm and cozy. You can hang out with family and friends. You're never too far away from a refreshing drink or snack. It's literally a home on the ice. But just because you have a wheelhouse doesn't mean you're restricted to it. Joel Nelson from Joel Nelson Outdoors often uses his wheelhouse as a base of operations in conjunction with portable shelters. We talked to him about this strategy on the Fish House Nation Podcast.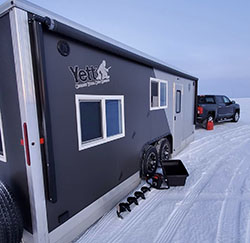 "In those situations where it's more local I try to work with a couple of buddies. I like to put my wheelhouse on a perennial spot that is going to be a good morning or evening location. Maybe it's a good break. Maybe it's a rockpile. I'll try to put one end of the house up on the shallower end and the long part of the house off to the deep side of it so were covering as much depth as we can. Or we'll cover weeds, let's say for bluegills. We'll put the house on the weeds and we'll use the portables to fish other areas… rocks, wood, sand. We'll use the house as a way to help with the other data you're collecting out of the portables to piece together the puzzle and figure out where the fish are."
The wheelhouse is a great way to never leave the ice for a weekend. Nelson and his friends don't need to go off the ice for lunch or to get a hot cup of coffee. They have all the supplies they need in their base of operations. "If they're on fish, I'm not afraid to jack this thing up and head across the lake and go drop back down where they're at too. You kind of have to keep that option open. If you're just going to set this up for the day and the day only, I think you're missing the point a little bit."
When Nelson pulls his house further to a big destination lake he likes to have another transportation option. "You get the kind with a toy hauler option. You can pull up a wheeler or a snowmobile. You set the house up over a nighttime or morning spot where you think the fish are going to be going and then you can range out with the portables and fish all kinds of stuff. A lot of guys will go up on Lake of the Woods and fish crappies in Canada and come back down at night and fish walleyes in the States. There's so many different options available to you when you don't limit yourself to wheelhouse only or portable only fishing. If you mix the two together, I think it's a huge advantage."
Another big reason to invest in a good portable house if you own a wheelhouse is to provide a bathroom. "Water freezes in the winter and a lot of guys don't want to set up their bathrooms and have to deal with plumbing issues that could result from using the bathrooms inside. A hub is cheap and you have this thing setup next door and have a heater in it. Then anyone can use the bathroom and it won't stink up the fishhouse and you're not going to suffer water issues if the whole deal freezes." Drilling a hole in the portable so you can fish while completing some business isn't out of the question either. "It wouldn't be the first time someone near the wheelhouse is slamming fish… why would you leave the outhouse if the fishing is hot?"
Having a portable is also a nice way to get some space while fishing. Many of the biggest wheelhouses on the market will sleep five or six anglers but with that many people it can get tight while fishing. "When you're going to take a trip with six guys, you don't necessarily want to be locked up with six guys the whole time in a confined space. A lot of times getting out in portables is just a way to get out, stretch your legs, and get some fresh air especially when the weather is nice. These things are awesome and super comfortable to be in but once you get six guys with their gear spread out, depending on how good your friends are sometimes it's not a lot of fun. I'm always packing portables. I don't think of it as a one or the other way of doing it."
To listen to the full conversation with Joel Nelson click the player below or click here to visit the podcast page.