Posted by Chris Larsen on 7th Nov 2019
High temperatures in the Brainerd, Minnesota area are forecasted in the 30s throughout the extended forecast. Water temperatures continue to dive. It won't be long and we'll have walkable ice.
Now is a good time to go through your tackle boxes. I recently visited with Jon Thelen from Lindy Fishing Tackle. Lindy's Glow Spoon revolutionized the way glow lures were designed. This year, Lindy has a new lure using the same glow feature but with a completely different action. the Glow Streak is a ripping style lure that is effective through the ice or in open water.
To learn more, let's listen to the conversation with Jon. This was recorded at a dealer only show in September.
"I spend a lot of time on the ice and I've always been intrigued by different baits. Baits that do different things. The idea behind the Glow Spoon was making sure fish can see it. Not only can they hear it. Not only do they like the action. I want them to see it. I'm talking clear water, dirty water, high light, low light."
Thelen says visual cues are even more important during ice season than open water season.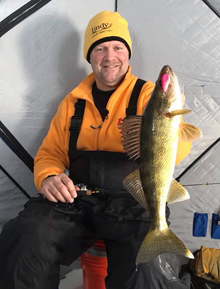 "What you have to remember is, fish are meandering around in the winter. They're not actively running around and feeding except for small short windows. I'm a firm believer that you have to grab their attention more in the winter than you do in the summer. In the summer, fish, specifically, walleyes, are feeding all day long. There's always a pod somewhere feeding but in the winter there's always a period of quiet."
With Lindy's Glow Spoon, the light stick made the lure easy to see in just about any water conditions. The Glow Streak is taking the benefits of the Glow Spoon and adding an entirely different action and presentation to the lure.
"We're putting a light stick in a jigging minnow style bait so they can find it but we're also incorporating that heavy action and heavy rattle. When you jig the Glow Streak it flies out to the side of the hole and then turns and swims back," said Thelen.
The Glow Streak comes in two different sizes, a 2" 5/16 ounce and a 2 ½" ½ ounce version. Thelen says it's an ice fishing bait but it's also a great open water bait. Lindy isn't the only lure company using light sticks to illuminate baits. But Thelen says their product is unique in that the light stick illuminates the colors built into the lure. This makes the color options far more diverse.
"Here's where we are the first. We didn't focus on just putting a glow stick on a metal bait and having the glow stick provide the actual light. When you look at Glow Spoon or Glow Streak, they're all the same color light stick. We have a patented process that when we put that light stick in that bait it shines light through in the color of the bait. A lot of those other ones out there are reliant on the color of the light stick. You might get two different colors of light sticks and that's what you got, you got two different colors. With the Glow Spoon and Glow Streak you get an entire color palette because we're shining through in the color of the spoon itself. It gives you 14 colors in the Glow Spoon and 12 colors in the Glow Streak."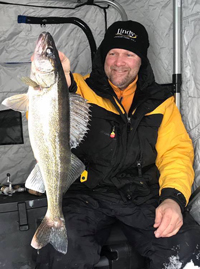 Pink Scale was the number one selling color in the Lindy Glow Spoon last year with Fire Tiger being the second most popular color. Ice anglers have loved those colors for years. Chartreuse Bloodline is one of Thelen's favorites and he believes Pink Dace will be a hot color in the 2019/2020 ice season.
One of the big advantages to using a lure like the Glow Spoon or Glow Streak is they actually bring fish in. This can be a big help to anglers using wheelhouses or hardhouses. "You're fishing a bunch of set lines in your wheelhouse, most likely. There's nothing wrong with dropping a bait like this down there and just ripping it every 15 minutes or so. Because all of a sudden you may be saying to yourself, "geez, I didn't get anything while I was ripping it" but you look over here and you got a set line going, you got a bobber down, or you got a Rattle Reel going off. It's because you got that fish here and as that fish was moving toward that noise, that vibration, that glow light, it runs across a fathead minnow hanging on a Frosty Jig or something like that. I'm a big believer in doing things to bring the fish to you."
The innovations in ice fishing have made it more accessible than ever before. With today's electronics, ice suits, shelters, and houses that have become more luxurious, Thelen says it's a great time to get family out on the ice to enjoy the pursuit together. "There's really no reason to just go with the guys. You can get the wife and kids out. You can do a lot of different things together… Keep it simple with the kids. Go catch some panfish. Do some things that will get them hooked on it. It's a great sport and it's growing by leaps and bounds."
Thanks to Jon Thelen from Lindy Fishing Tackle for the interview. To learn more about their products, visit LindyFishingTackle.com.