Posted by Chris Larsen on 13th Oct 2020
Joel Nelson is an all-season outdoorsman. From ice season to open water fishing and from turkey hunting to pheasants, grouse, and deer, Joel enjoys it all and his wheelhouse often serves as his basecamp no matter the season. You can stay updated on his adventures on his blog at JoelNelsonOutdoors.com. Nelson is a recent guest on the Fish House Nation Podcast. He discussed how he prepares for the ice fishing season.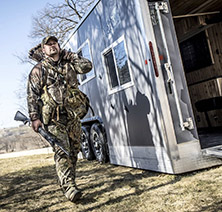 "I'm a big outdoors person. I love spending time in the woods in the fall. Grouse hunting and deer hunting are important to me. But ice is one of the crown jewels. I really love ice fishing. If I go straight from grouse, pheasants, and whatever upland hunting I do, to deer, and then straight into ice, I hit first ice feeling like a greenhorn… I'm big into getting ready. This time of year, leading all the way up to mid-November I'm doodling. Doodling in the garage getting things ready and just generally prepping for the season to come."
The first thing Nelson starts with is his big-ticket items. "You've got a little bit of time so this is heavy equipment time. This is time to locate your portable, your auger, and your ice electronics. I do it in that order. I look at my portables first to see what I've got in the fleet. What kind of condition are they in? Do I need to replace anything? Is anything broken? Do I need to buy anything new? I usually do that with the shelters first and then move onto the auger. Battery augers are the rage nowadays. So I'm not as worried about getting my gas-powered auger serviced but if I do have a gas-powered auger I want to make sure it starts. I want to make sure my blades are in good order. Do I need to order more sets? Electronics are the same way. What condition are my batteries in? What am I going to run? How many different units? Are they beat up? Do they need parts?"
Taking an inventory now is a great way to get ahead of everyone else when it comes to parts and service. Shortages were common for open water gear this summer due to COVID-19 effects and those same issues could surface this winter. Being ahead of the crowd is going to be key. "If you show up late to the party, there may not be a party to go to. When you start talking about COVID and what it's done in terms of people finding things. I was just at a couple of different big box stores… one thing I'm observing is that a lot of stores are setting ice stuff now because they've run out of summer things to stock. They're putting that stuff out now and there's going to be a run on that stuff because it's there to buy and people that ice fish will gravitate towards it and buy it. If there was any year when it was good to be a doomsday ice prepper, this is the year to do it."
Nelson says he usually waits until just before the season before starting to set up rods and reels but will order what he needs early. "You'll start to see a lot of new lure releases. Companies are putting out new baits and you'll see the availabilities of those in good supply, both at retail and online. I'll use a mix of retail shopping and some really targeted online purchases to make sure I've got the size, color, and every little nuance dialed in on those baits so I don't show up to a Lake of the Woods fishing trip in January hoping that someplace on my drive up has the exact color and size I'm looking for. You might get lucky but the odds are probably not good especially in a year like this."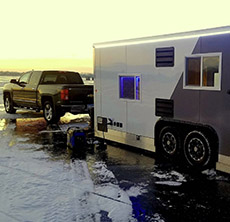 Nelson's wheelhouse is an important tool in his ice fishing strategies. Converting the wheelhouse from summer and fall mode to winter mode is another step in his season preparation. "I camp in mine so I do have to winterize it. I get the camping stuff out. I utilize these little totes that fit perfectly in all of the gear slots in my house. So I have a set of small plastic bins that hold everything camping. Those go out on the shelf where the winter stuff was and the winter stuff goes back into the fish house. That's a really easy way to change over. Those Catch Cover Quick Disks are awesome. They are super durable and last forever. I can plug cup holders, rod holders, Rattlesnake Reels, anything into them wherever I want. A big part of my prep is those totes but the next part is placing the discs. I'll put them everywhere because there's no penalty for having a few extra. They take up no space. Have as many as you want wherever you want and then you can put accessories wherever you need them."
Checking out the mechanics of the house is also vital. It's more than storage and fishing gear. Making sure your heater and towing equipment is at it's best can make a big difference once the season starts. "Your hitch system, making sure your chains are in good order, your breakaway is in good order, and the tires. The other thing is your system of bringing the house up and down, whether that's a hand jack or that's hydraulics. Make sure those pumps and straps are all in good working order. Do it now when it's nice. Everything is way harder when it's 20 below. Make sure your pins are in good order. If they're rusty give them a coat of WD-40, wipe them down, and if you need to take a wire brush to them, do that. The other thing is battery condition. Your electronics are super important. In a Yetti like mine, the hydraulics run off those batteries. If your batteries have been drained low over the summer and haven't been maintained well, you could get halfway into dropping your house or raising it up, and then you're going to be out of luck without a charger or external power source."
To hear the entire conversation with Joel Nelson, click the player below or go to our podcast page.