Posted by Chris Larsen on 27th May 2021
If you've never fished with rattle reels before and just picked up your first set of Rattlesnake Reels, it's time to start setting up your rattle reels for ice fishing. The first step is to decide where in your fish house you would like to set up the rattle reels. Obviously, they need to be mounted in a way that the line can be dropped down the center of a Catch Cover hole. But this can be done several ways.
The most popular way to mount a rattle reel in a Yetti wheelhouse, Ice Castle, or any other fish house is with a wall mount. Simply secure the Rattlesnake Reel Wall Disc to the wall near the hole you wish to fish out of. The Rattlesnake Reel includes our Multi-Flex Arm so getting perfect placement is easy.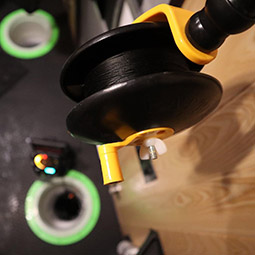 A ceiling mount is also popular. This keeps the rattle reels off the wall and out of the way. Again, thanks to the Catch Cover Wall Disc, installation is simple. Just mount a wall disk on the ceiling directly over the hole and you're ready to fish. I recommend an extra wall disc on the wall at standing height so you can get the Rattlesnake Reel out of the way when fighting a fish. It's also easier to change the tackle setup on a rattle reel from standing height.
Another way to set up a Rattlesnake Reel that many people don't know about is by utilizing the slot in the Catch Cover Safety Cover. This location allows you to use your rattle reels without ever placing a screw in the wall. This is also a fantastic rattle reel setup for people who are renting a fish house. You can convert any standard sized hole in the rental shack into a rattle reel hotspot!
What is the best rattle reel line?
The best fishing line for rattle reels is debatable. Fishing line has always been that way and always will be. For years, anglers used dacron line and it works just fine. But I've recently switched all of my rattle reels and tipups over to fly fishing line. It doesn't tangle and it's not as prone to knotting up as dacron line. Suffix Rattle Reel Line is another popular choice for the same reasons.
These lines generally come in high-vis colors so for fishing success, you'll want to tie a leader to the fly line for your terminal tackle. I use a swivel to attach the leader to the fly line. This makes it easy to change setups as needed. If I have lines down for perch and crappie, I'll use a light monofilament line leader with a small jig. When setting up a rattle reel for walleye fishing, I prefer a fluorocarbon leader, usually with 10 pound test but perhaps lighter in clearer water or heavier if I'm targeting northern pike.
A slip bobber can make setting the precise depth you're fishing easier. Having a variety of bobbers is a good idea. The line should be set up with just enough bobber to float. The fish shouldn't feel the bobber when grabbing the bait. If the right bobber isn't available, just add some weight to the line.
Rattle reels are a great way to add another line while fishing. When ice fishing for walleyes on Mille Lacs guides will often tell you that the jigging rod brings fish in but they usually bite the set line or deadstick. Having a second line in the water really helps catch fish. As always, before setting extra lines, check the regulations in your area.
Get your Catch Cover Rattlesnake Reel by clicking here.