Posted by Chris Larsen on 5th Jun 2023
Once thought of as a trash fish, burbot, are now prized target species among ice anglers. Also called eelpout, burbot are typically bottom-dwelling fish. They're commonly found in deep-water lakes but can be caught in shallow water when habitat allows.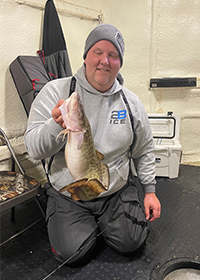 Burbot are caught during open water seasons but the bulk of burbot pulled from the depths in Minnesota are caught during ice season. Some of the most popular lakes in Minnesota for burbot fishing are Lake of the Woods, Mille Lacs, Leech Lake, Lake Winnibigoshish, Lake Vermillion, and Upper Red Lake. But they're found in waters all over the world.
It's hard to beat ice fishing from a permanent fish house for burbot. The comfort of fishing from a warm, hard-sided house makes hitting these windswept lakes enjoyable even in the worst weather. Burbot are generally more active in low-light conditions and at night. Their nocturnal nature makes burbot fishing from a fish house even more productive.
During the waking hours, burbot can often be caught while jigging for walleye. They tend to frequent the same areas and bite similar spoons and other lures. But what draws us to the fish house lifestyle is staying overnight on the ice. Burbot is the perfect target species for overnight fish house adventures.
Our favorite setups for burbot, especially in the overnight hours are Catch Cover Rattlesnake Reels and deadsticks utilizing the Catch Cover Rod Holder. A weighted treble hook with a wad of minnows is often the hot ticket for burbot. Tailhooking the minnows will keep your bait active while you're sleeping. Be sure to leave the tension loose on the Rattlesnake Reel so that you hear the bite during sleeping hours. Rig a split shot about six inches above your hook. You want to keep the bait within a few inches of the bottom. A drop-shot rig also works great. Having the weight on the bottom and the hook slightly above it ensures that your bait is always where it should be.
Spoons work great too. Most are already rigged with a treble hook. A Kastmaster is a great setup and it gives your bait a little flash, even if it's not being actively jigged. If you have a spoon tied onto a rod that is seated in a Catch Cover Rod Holder, you can reach over and give it a tap or two when you're rolling over in the middle of the night. This will give the bait some action once in a while. The bonus of this setup versus a rattle reel is that you get to fight the fish on the rod, it's a little extra fun that you don't get with the hand-over-hand retrieval on the rattle reel. If you'll have lines down while sleeping, attach a bell to the rod tip to wake you up when a fish strikes.
When it comes to rods, I recommend a setup similar to what you would use when fishing for trophy walleyes. 32"-to-36" with a medium/heavy power and fast action would be perfect. I would run 8-pound test, you may be able to go a little heavier in stained water.
Burbot is caught out on the open ice and in portables all the time, but there may not be a better species of fish designed to be caught out of a fish house than the mighty burbot. They also make great table fare.