Posted by Chris Larsen on 28th May 2021
One of the best aspects of ice fishing from a permanent house is sleeping out on the ice and there's nothing quite like being pulled from your slumber by the sound of a rattle reel going off. Rattle reels are handy fishing tools because they allow you to set lines in a fish house without having to constantly pay attention to them. They get the name "rattle reel" because they make a rattling sound when a fish grabs your bait and pulls line.
What Is The Best Rattle Reel?
Sure, we're biased but we really believe the Catch Cover Rattlesnake Reel is the best rattle reel for fish houses. The Rattlesnake Reel is the most adaptable rattle reel on the market today. It can be mounted on the wall, overhead on a ceiling, and even on the Catch Cover Safety Cover. Check out the video below this paragraph. Minnesota fishing guide, Brad Hawthorne, has them mounted to the underside of his wheelhouse table. The possibilities are truly endless. With the Catch Cover Wall Disc System you can have multiple setup locations in your house but only need a few Rattlesnake Reels. Simply move them to the location you wish to use them and then put them away when not in use. No more pant legs, kids, or dogs getting caught up in the hooks on your rattle reels.
The other great feature of the Rattlesnake Reel is Catch Cover's multi-flex arm. This allows you to position the Rattlesnake Reel exactly where you want it. Getting the line perfectly centered over the hole catches more fish. The direct adjustable spool tension allows you to set the Rattlesnake Reel to sound off during a light crappie bite or tighten it up when fishing for big northern pike with active shiner minnows.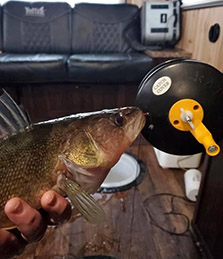 Setting up the Rattlesnake Reel is easy too. One turn of the spool equals one foot of line so you always know how deep you're fishing, even without the use of ice fishing electronics. No matter if you're ice fishing in a permanent or portable shelter, you can take your Rattlesnake Reel with you. It's easy to convert your Rattlesnake Reel into a Eskimo, Otter, or Clam hub rattle reel. Many of our customers use zip ties to secure a wall disc to the hub and then setup the Rattlesnake Reel. Deadsticking has become very popular for ice fishing for walleyes and the rattle reel setup is an easy way to add another line without worrying about losing an expensive rod & reel combo.
All of the above reasons are why we believe Catch Cover Rattlesnake Reels are the best rattle reels for ice fishing in a wheelhouse or any other ice fishing shelter. But to sweeten the pot even further, Catchcover Rattlesnake reels are Made In The USA and carry the Catch Cover No Questions Asked Lifetime Guarantee. You just can't find that peace of mind with any other rattle reel on the market.
Want to learn how to set up your rattle reels to catch more fish? Click here.
Click here to find Rattlesnake rattle reels for sale.