Posted by Chris Larsen on 25th Aug 2023
Minnesota is renowned for its excellent walleye ice fishing opportunities, with numerous lakes across the state that offer prime locations for anglers. While it's difficult to pinpoint a single "best" spot for walleye ice fishing, everyone has their preferences. Here are a few of the top destination lakes in Minnesota that are known for their walleye fishing during the winter months:
Lake of the Woods
This massive lake on the northern border of Minnesota is famous for its walleye fishing, both in open water and during the ice fishing season. It's known for producing large walleye and offers a diverse range of fishing structures. Ice fishing usually starts to get going right around the first weekend of December, but can vary from year to year. There are many resorts on the lake. Check-in with one of them before traveling to check on ice conditions. I like to keep an eye on the Facebook pages of the resorts. They will let you know what is happening without having to make a phone call.
Jigs and spoons are typically what you'll see tied onto most lines on Lake of the Woods walleye anglers. The water is stained so bright colors and even glow are hot colors. Perch patterns are very popular. Rattle baits like the Northland Buckshot Rattle Spoon are hot lures on Lake of the Woods too. With the darker waters of the lake, fish key in on noise to find food. Lake of the Woods can be very structure-specific. Big reefs and rocky points often hold fish.
There are a lot of day house rentals on Lake of the Woods but overnight anglers can have good nights when conditions are right. The sauger is the little brother of the walleye and there are plenty of them in the system. While they don't get as big as walleyes, saugers can provide extra action and they're just as tasty as walleyes.
Red Lake
The Red Lake system is the largest lake entirely within Minnesota and offers great walleye fishing during the ice fishing season. But keep in mind that Lower Red Lake and the western half of Upper Red Lake belong to the Red Lake Indian Reservation. Only about 48,000 acres of the entire 288,000 acres are open to sport fishing by non-tribal members. The tribe patrols the border frequently and you do not want to venture into their area. If you use a GPS map while fishing, you'll notice that there is no data available for those areas. While ice fishing, if you stay on the resort roads, you'll be in good shape.
Upper Red Lake is another lake with dark water. Pink, perch pattern, and gold are the most popular colors on Red. Check out our earlier blog on Red Lake by clicking here.
Unlike Lake of the Woods, Upper Red Lake doesn't have a ton of structure. It's essentially a big bowl. There are small flats that often hold fish. Due to its relatively shallow water, Upper Red Lake is typically the first of the big destination lakes in Minnesota to freeze over. In most years, there are ice anglers on Upper Red before Thanksgiving. Again, check in with resorts for ice conditions. There are tons of rental houses and many of the resorts will pull your house out on the lake for you early in the season. Due to the early ice, Upper Red takes on a bit of a party atmosphere in November. It can be very busy and there is a lot of pressure. Getting away from the crowds can help you find actively feeding fish.
Mille Lacs Lake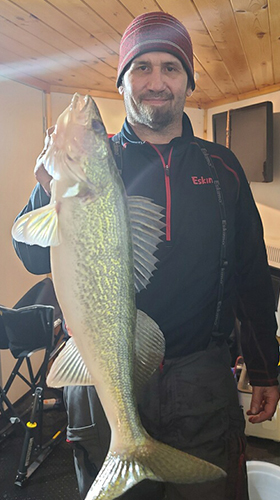 This lake is located in central Minnesota and is known for its large walleye population. Mille Lacs Lake has tight regulations in place to protect the fishery, so make sure to check the latest fishing regulations before heading out. If you're looking to fill a bucket of walleyes for a fish dinner, Mille Lacs is not the place to go. But if you want an opportunity to catch a giant walleye for a great photo, Mille Lacs may be the best Minnesota destination lake to pursue trophy walleyes.
Vehicle traffic doesn't typically hit Mille Lacs until after Lake of the Woods and Red Lake anglers have had a few weekends of driving. But snowmobiles and walkers are often on the lake in early December. Mille Lacs is deep and clear. Natural presentations are the norm and there are hundreds of named pieces of structure throughout the lake. Whether it's 7 Mile Flat, Banana Flat, Flamingo Reef, or any place in between, experienced Mille Lacs anglers know they have to keep on the move to stay on fish. Mille Lacs lies further south than any of the other destination lakes on this list. It's not far from the Twin Cities so pressure can be very intense, especially once vehicle traffic opens up on the lake.
Spoons and lipless crankbaits are great on Mille Lacs. My favorite colors are silver, gold, pink, and green. The perch pattern is also strong. Jigging with one rod and deadsticking with another rod with a live minnow is a proven method for catching walleyes on Mille Lacs.
Leech Lake
Located in north-central Minnesota, Leech Lake is another popular destination for ice fishing walleye. It's a large lake with diverse structure that provides ample opportunities for anglers. The most popular walleye spots on Leech Lake include the basins of Walker Bay and Agency Bay. I've interviewed Brian "Bro" Brosdahl on Leech Lake a few times. He'll tell you it's a lake with just about everything in it and the fish can get big. But Leech doesn't always give up her bounty.
The walleye bite can be challenging during the mid-day hours. A lot of Leech Lake anglers will chase perch throughout the day and jig for walleyes in the morning and evening hours. A camera can come in handy on Leech as fish often congregate on small weed edges in the sand that can be tough to spot with sonar. In the evening and into the night, walleyes cruise the rock piles that can be found scattered throughout the lake. There is a good night bite on Leech Lake so be sure to pack your rattle reels.
Probably the most popular bait on Leech Lake is a minnow on a plain red hook rigged just below a split shot. It's a simple setup that is highly effective.
Lake Winnibigoshish
Commonly referred to as "Lake Winnie," this lake offers good walleye fishing throughout the year, including during the ice fishing season. It's located in north-central Minnesota. Winnie has become a mecca for Minnesota perch anglers but there is some incredible walleye fishing to be found as well.
The aforementioned Leech Lake has a lot of points and bays. Winnibigoshish appears more like Red Lake on the surface. It looks like a giant bowl but there are countless contours and midlake humps throughout. Make no mistake, there is a lot of structure but you'll need a lake chip or app to find most of it.
Resorts on the lake build extensive road systems for fish house anglers so finding a spot on the lake isn't hard. As the season goes on, seeking out less traveled ice will increase your success. I like to use the fish house as a base camp in situations like this. Venture out with a quad or snow machine and a portable, while using the fish house as a warming house and eatery.
Cass Lake
This lake is part of the Cass Lake Chain of Lakes and offers excellent walleye fishing. This chain certainly isn't unknown but you typically don't hear as much about it during ice season as places like Lake of the Woods and Upper Red. It's nestled just west of Winnie and just north of Leech Lake.
Zebra mussels have changed the game on Cass. The water is clear and natural presentations are highly successful. Minnows on plain hooks are popular. Perch pattern and silver are favored colors on the Cass Chain. There is a ton of structure so finding a place to set up won't be difficult.